Informations
PROJECTS FOR THE TRANSFORMATION OF THE CITY'S DOCKS IN FERRARA
The core of Ferrara is celebrated as one of
the most attractive and well-preserved
historical centre in Italy. Visiting it, you
will be surprised by the compact image of
the old city. Brick walls, saddle roofs,
narrow streets… tourists appreciate the
picturesque landscape and remember the
good old times… but citizens prefer to
abandon it and go to the country.
We wanted to invert the actual tendency
for depopulation of the old city redesigning
the spaces near the city wall focused
on this forget area.
The requalification project of the docks
area, promoted by municipality, has been
thought with turistic and leisure aims and
fits in with a more complex and articulated
plan about the Ferrara waterway concerning
the arrangement of the entire stretch
of urban canal.



The operation is oriented to the revitalization
of this important area by means of
the integration of the existing structures
with new ones in condition to develop the
tourist and river and free time activities.
The general project concerns hydraulic
operations of resection of river bed for a
better usability of the river docks; started
from this every student elborated different
solution to provide the area with leisure
services for young people and students.
Starting from these considerations in their
projects the students developped suggestion
to improve the area with unconventional
architectures for an unconventional
way of life, had to deal with the complexity
of concepts such as context, memory
and tradition. Handling with different materials,
surfaces and textures, studying
light and colours they used every possibility
to outline a new presence in the historic city.


click info to close it
click info to close it
The projects
---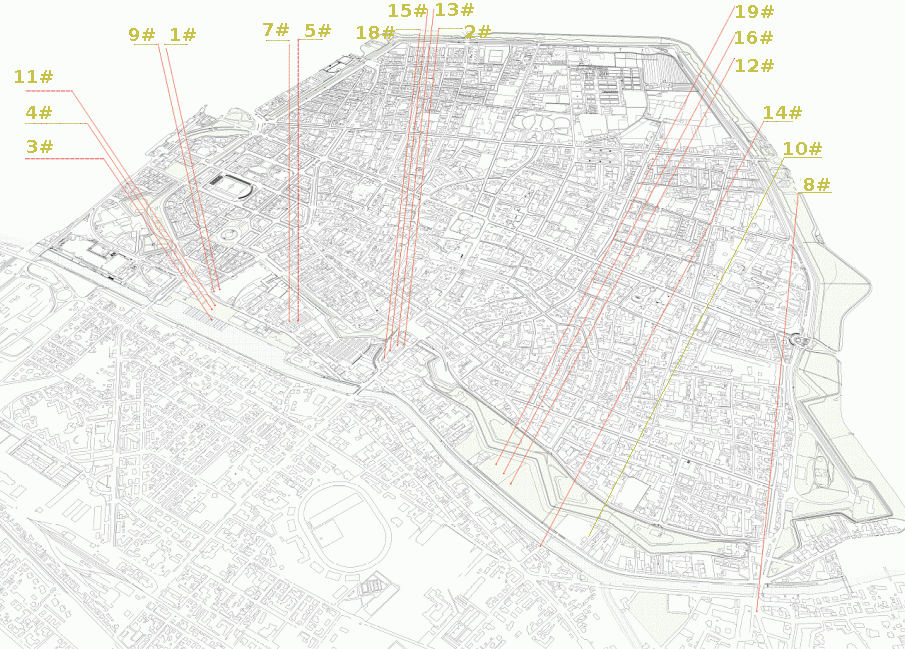 ---
1#

Shaping Void

Ex-Mof | Darsena

Chiarelli Andrea, Guerzoni Valentina, Ferraresi Enrico, Romito Gabriella Dora

2#

reMOVE & rePLACE

P.za Travaglio, P.zale Kennedy and surr.dings

Angelini Zucchetti Lucia, Beltrame Alberto, Mastrolorenzo Paola

3#

RE|LOAD

Ex-Mof |Darsena

Colombari Erica, Malaguti Thomas, Pinnavaia Luca, Steffan Daniele

4#

Urban Shots

Via Darsena

Michelini Marta, Silvia Sguazzin

5#

Parking

Via Darsena

Coricciati Erica, Lomartire Marco, Mantesso Davide, Medici Marco

7#

Back to the River

Darsena, Kennedy parking, Via Rampari

Balboni Arianna, Bolzon Paola, Cattabiani Francesca, Rossi Giulia

8#

A New Urban Hall

San Giorgio

Orbi Giacomo

9#

Stop or Go!!!

Area ex-Mof

Bernand Andrea, Lorenzi Federica, Misurovic Dasa

10#

ReSidEs

Viale Volano

Martina Clerici, Giulia Sarmenghi

11#

L + V

Via Darsena Via Bologna

Badiani Tommaso, Cicognani Marco, Ferretti Stefano, Landolfi Giampaolo

12#

X Chromosome

Via dei Baluardi

Esposito Claudio, Sekulic Andrijana

13#

reGENERATE

Kennedy Parking

Gaiani Benedetta, Martelli Lorenzo, Ravazzi Federica

14#

Fragments

Via Otello Putinati

Schiano Lomoriello Valentina,Tedesco Lea

15#

in'ThicKennedy ParkingSavoldi Silvia, Trabucco Davide

16#

LInear DISTRACTION

Via Volano

Frigato Matteo, Gulinelli Matteo

18#

Urban amnesias

Kennedy parking Area

Baroncini Cristina, Fini Caterina, Muzzi Alessandro, Nadalin Lucia

19#

three Pavilions

Viale Volano

Tenzon Michele